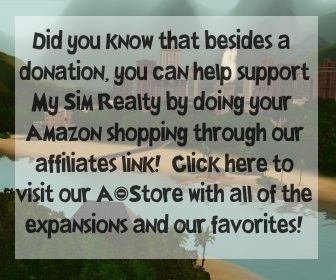 All of our downloads - especially worlds - represent hours of time and dedication! Would you show your support and appreciation with a donation? Every amount is appreciated and helps with site costs! A
nother way you can help is by disabling Ad-Block extensions for this website -
here's how
!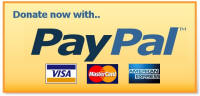 One of the best aspects of Sims 3 is the concept of an open neighborhood! Take advantage of this by filling your world with plenty of fun and interesting places for your sims to visit! My Sim Realty has a large selection of community lots and they are sorted according to the lot type with each respective expansion pack. If you need assistance installing these files, please visit the
F.A.Q.
If you encounter an issue with the file or a link, please
email us
.
If you would like to have a custom University lot to play in your world so that your sims did not have to leave the world to obtain a diploma,
check out
the custom Universities that we have created (please note that in order to do this, there are two custom content items that must be used).
All of the downloads available - especially worlds - represent hundreds of hours of work and dedication.
If you appreciate the free downloads, please consider a donation. Thank you!


Lots Added with University
Disco Fan Arcade
Requires Sims 3 + Ambitions + Late Night + Seasons + University + Island Paradise + Into the Future + Free Throw Machine (optional)
Lot Size:

30x30


Furnished: $82,592
Stories: 2
Other: This arcade is great for parties! Upstairs is a party room with joining bathroom, little bar and buffet table. The tables overlook the bowling alley. Upstairs is also where the arcade is, and then the main level is the bowling alley and bar. Outside is a patio and a food truck to enjoy. This lot is a great corner lot for your world!



Coffeesmiths Deli Shop - Java Hut


Requires Sims 3 + Ambitions + Late Night + Seasons + University + Island Paradise


Lot Size:

20x30


Furnished: $43,287
Stories: 1
Other: This little deli offers sims a chance to lounge on a nice patio with chess boards and a grill. Inside there is a littel deli area that serves coffee, lots of books, a computer area with free wi-fi and a lounge area with fireplace. Sims can also enjoy a pool table and juke box!



Brewed Awakenings Bakery - Java Hut
Requires Sims 3 + Ambitions + Pets + Island Paradise + University + Seasons + Into the Future (plants only) + Indulgent Bakery
Lot Size:

25x16


Furnished: $65,991
Stories: 2
Other: This java hut has recently had many updates to include a full-service bakery! The bakery's kitchen has two ovens and several places to sell sweets. There is still a back patio with grill and fire pit. Upstairs is a fireplace, lounging area, kitchenette area and computers. This lot is to replace the former version in Meadow Glen in the town center.



Crank Hank's Comics - Nerd Shop


Requires Sims 3 + Late Night + Generations + Seasons + University + Into the Future


Lot Size:

20x30


Furnished: $57,649
Stories: 2
Other: Nerds and non-nerds alike will enjoy this shop! The comic book shop has a chemistry set and computers to use. The upper loft has a large TV for video game tournaments and a kitchenette. There are two study rooms that join it to a small coffee shop.



Dark Wave Cafe - Rebel Hangout


Requires Sims 3 + AMB + LN + PETS + SHO + UNI


Lot Size:

20x30


Furnished: $44,205
Stories: 2
Other: This rebel hangout features a coffee bar on the main level with a podium. There is an upper level loft that serves as a reading nook. There other room has a large fireplace and TV, computer, books and a photo booth. Created for Meadow Glen Updated to replace the upper left house in the town square.



Alter Ego Comics & More - Nerd Shop


Requires Sims 3 + LN + SHO + SEA + UNI


Lot Size:

20x20


Furnished: $45,080
Stories: 2
Other: This nerd shop has plenty for your sims to do! The main level has a grill on the patio, arcades and video games. The upper level has more arcades, computers and a coffee shop. There are also bathrooms on site. Created for Meadow Glen Updated to replace one of the 20x20 apartment buildings in the town area.



Barney's Corner Arcade


Requires Sims 3 + AM + LN + SHO + SEA + UNI


Lot Size:

30x20


Furnished: $15,786
Stories: 2
Other: Sims of all ages will enjoy time spent at this corner arcade. Inside this building are three bowling lanes, an indoor skating rink, and a coffee bar on the main level. Upstairs is a pool table, bathrooms, foosball, arcade machines and ping pong. Created for Meadow Glen Updated to replace the lower left house near the main park.



Brewed Awakenings - Java Hut


Requires Sims 3 + LN + UNI


Lot Size:

25x16


Furnished: $14,207
Stories: 2
Other: Sims can come to this small corner Java Hut for a cup of coffee, a good book and the soft tunes of the piano. There is a small grilling patio in the back as well. Created for Meadow Glen Updated to replace the empty shop in the town center.



Evansdale Student Union


Requires Sims 3 + SHO + UNI


Lot Size:

30x20


Furnished: $26,112
Stories: 2
Other: Students attending a custom University in their home world will appreciate the facilities available at the Evansdale Student Union. This building has chess and a grill out on the patio. Inside your sims will find two lecture rooms, bathrooms with showers, a coffee shop, computer lab and entertainment. The upper level is a great place for a study area right by the fireplace! Created to replace a townhouse in the city at 53 Baltic Aveue in Evansdale.



Family Fun Rec Center - Arcade


Requires Sims 3 + AM + LN + SHO + SEA + UNI


Lot Size:

30x30


Furnished: $42,693
Stories: 3
Other: Sim families will enjoy this rec center all year round! The main level features a coffee bar, indoor skating rink and bowling! The 2nd level features an outdoor grilling patio, ping pong and shuffleboard. The 3rd level has foosball and arcade games. This lot is featured in Evansdale County.



University Bar & Grill - Java Hut


Requires Sims 3 + AM + Pets + SHO + UNI


Lot Size:

20x30


Furnished: $21,589
Stories: 2
Other: Your sims will enjoy fun and food at the University Bar & Grill! The main floor of this venue has arcades, sweets and coffee, bathrooms, pool and lounge areas. Upstairs your sims will enjoy ping pong, video games and a grill outside. The back fenced yard has a bon pit area as well. This lot is featured in Evansdale County.


Back to Top