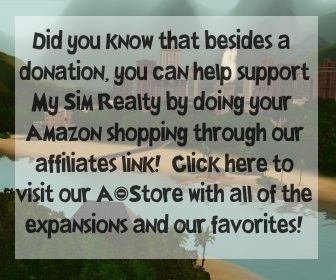 All of our downloads - especially worlds - represent hours of time and dedication! Would you show your support and appreciation with a donation? Every amount is appreciated and helps with site costs! A
nother way you can help is by disabling Ad-Block extensions for this website -
here's how
!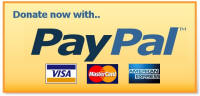 As your sims are just getting started, you will need to find a home that can fit in their budget. My Sim Realty offers a large selection of starter homes which all are below $16,500. Some have a lot of space and some do not. Each home will have its description beside it. You may also consider checking out an
apartment
if you have the Late Night expansion. Click on the thumbnails to see bigger pictures of the interior / exterior. If you need assistance installing these files, please visit the
F.A.Q.
If you encounter an issue with the file or a link, please
email us
.
All of the downloads available - especially worlds - represent hundreds of hours of work and dedication.
If you appreciate the free downloads, please consider a donation. Thank you!


---
---
Starter Homes - Under $16,500



225 Archer Avenue




Requires Sims 3 + Ambitions (only for exterior brick)


Lot Size:

30x30


Furnished: $16,484
Bedrooms: 2
Bathrooms: 2
Stories: 1
Other: This home is great for a family looking to expand! The main floor has 2 bedrooms and a full bath, with another room perfect for either another bathroom or a laundry room. There is a covered carport area and little dining nook. It is sparsley furnished for 2 sims. This home was built in Storybrook County and can replace the existing home at 225 Archer Avenue.




5 Hollyberry Lane




Requires Sims 3 + Generations (optional for 2 toys in backyard)


Lot Size:

20x20


Furnished: $16,324
Bedrooms: 1
Bathrooms: 1
Stories: 1
Other: This starter home features 1 larger bedroom and 1 bathroom. There is a fenced backyard with patio, flower garden and play area. Furnished for 2 sims and a baby.




26 La Boheme Way




Requires Sims 3 Base Game Only


Lot Size: 15x15
Furnished: $16,529
Bedrooms: 2
Bathrooms: 1
Stories: 1
Other: This small home features 1 larger bedroom and 1 small bedroom. It is furnished for 2 sims and a baby. This home was created for Elba Village.


35 Hidden Grove Lane




Requires Sims 3 Base Game Only


Lot Size: 20x30
Furnished: $15,494
Bedrooms: 1
Bathrooms: 1
Stories: 1
Other: This home may be small but has a nice layout for expanding purposes! There is an eat in kitchen and a good size bathroom. Furnished for 2 sims.




303 Cypress Lane




Requires Sims 3 Base Game Only


Lot Size: 20x30
Furnished: $16,303
Bedrooms: 1
Bathrooms: 1
Stories: 1


Other:

While a small home, this starter has lots of charm and a car pad! There is a lovely cherry tree and a

little front porch. Furnished for 2 sims.






25 Seagull Drive




Requires Sims 3 Base Game Only


Lot Size: 20x25
Furnished: $16,177
Bedrooms: 2
Bathrooms: 1
Stories: 1
Other: This home has a nice layout iwth 2 bedrooms and a small full bath. There is a small back deckk and simple features throughout the home. Furnished for 2 sims with an office.




48 La Boheme Way




Requires Sims 3 Base Game Only


Lot Size: 15x15
Furnished: $14,533
Bedrooms: 0
Bathrooms: 1
Stories: 1
Other: This studio style home has a bedroom nook and 2 single beds. There is a full bath and a stocked, fenced garden out front - perfect for two roommates! This home was created for Elba Village.




55 Washburn Street




Requires Sims 3 + World Adventures


Lot Size: 15x15
Furnished: $16,529
Bedrooms: 1
Bathrooms: 1
Stories: 1
Other: This quaint home may not be high on space but does have some rather nice furnishings for a starter. It is furnished for 2 sims with 2 single beds. Created for Cascade Shores.





21 Forest Drive




Requires Sims 3 Base Game Only


Lot Size:

15x15


Furnished: $15,974
Bedrooms: 1
Bathrooms: 1
Stories: 1


Other:

This quaint starter features a large bedroom and a smaller bathroom. There is an eat-in kitchen and small porch on the back. It is furnished for 2 sims. Created for Elba Village.




115 Tandem Avenue SE




Requires Sims 3 + World Adventures


Lot Size:

20x25


Furnished: $16,457
Bedrooms: 2
Bathrooms: 1
Stories: 1
Other: This nice home has a spacious layout, however is very sparsely furnished (lot prices may vary due to values in other worlds). It has a nice covered patio. Furnished for 2 sims. Created for Anju Falls.


Back to Top