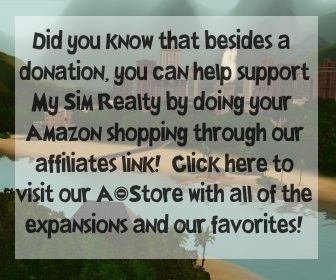 All of our downloads - especially worlds - represent hours of time and dedication! Would you show your support and appreciation with a donation? Every amount is appreciated and helps with site costs! A
nother way you can help is by disabling Ad-Block extensions for this website -
here's how
!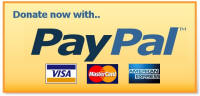 Welcome to My Sim Realty
Welcome to My Sim Realty - home of quality lots and worlds for your sims! This website was established in October 2008 to offer the sims community free, quality lots to download for the Sims 2 and Sims 3. Since then we have compiled hundreds of downloads which do not require any custom content! And now with the addition of the Create-a-World tool, we have a large selection of custom worlds available as well. We appreciate you visiting our site - if you would like to get instant updates of new lots available to download, please like us on Facebook or follow us on Twitter. If you appreciate the free downloads available at My Sim Realty, please consider supporting us with a donation - your generousity of any amount is very much appreciated! You can also support us by shopping at Amazon through our affiliate's link. Your prices are the exact same, however a small "finder's fee" from your purchases is then sent to help support our site. You can also support My Sim Realty by disabling any ad-block extensions for this website. Click here to learn how to do this!



Updated News from SimRealtor...


I would really appreciate YOUR feedback on how I spend my creative energy! I am looking to refresh / remake one of my older worlds that has not been updated for many of the EPs... or making one of the larger worlds I have into a University you could travel to or use without rabbit hole rugs. Would you take a moment and complete this 2 question survey and give me some feedback on what you think? I appreciate it!

Take survey here: https://www.surveymonkey.com/r/XV352CZ

Newest Stuff to Download!


SimMeapolis World & University

Added 11/19/2016


If you are not keen on using custom content or mods in your game but do not like EA's glitchy error ridden university, then you have come to the right place! Welcome to SimMeapolis which is a fully functioning world but also has a version available that can be used in place of EA's so that you can travel here! Have dreams of a country girl living in a rural area going to the big city for college to achieve her dreams? Those dreams are now a reality!



-

This world is a fully functioning world to live in and enjoy and you can use Nraas career mods to go to school without leaving!


-This world is also available to use instead of EA's glitchy university world to travel to!

A brand new world represents weeks of time and effort - would you please consider a $5 donation to help with website and server costs?




Coffeesmiths Deli Shop - Java Hut

Added 11/13/2016




Requires Sims 3 + Ambitions + Late Night + Seasons + University + Island Paradise


Lot Size:

20x30


Furnished: $43,287
Stories: 1
Other: This little deli offers sims a chance to lounge on a nice patio with chess boards and a grill. Inside there is a littel deli area that serves coffee, lots of books, a computer area with free wi-fi and a lounge area with fireplace. Sims can also enjoy a pool table and juke box!

Disco Fan Arcade

Added 11/13/2016


Requires Sims 3 + Ambitions + Late Night + Seasons + University + Island Paradise + Into the Future + Free Throw Machine (optional)
Lot Size:

30x30


Furnished: $43,287
Stories: 2
Other: This arcade is great for parties! Upstairs is a party room with joining bathroom, little bar and buffet table. The tables overlook the bowling alley. Upstairs is also where the arcade is, and then the main level is the bowling alley and bar. Outside is a patio and a food truck to enjoy. This lot is a great corner lot for your world!



Shenanigans Bar & Grill - Sports Bar

Added 11/13/2016




Requires Sims 3 + Ambitions + Late Night + Showtime+ Seasons + Supernatural + University + Island Paradise


Lot Size: 30x30
Furnished: $75,914
Stories: 2
Other: This bar is conveniently located right next to the stadium to celebrate after the big win! There are a ton of big screen TVs, a photo booth, pool table, karoke and live music! There is also shuffleboard, darts and foosball!