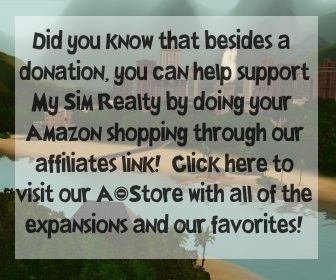 All of our downloads - especially worlds - represent hours of time and dedication! Would you show your support and appreciation with a donation? Every amount is appreciated and helps with site costs! A
nother way you can help is by disabling Ad-Block extensions for this website -
here's how
!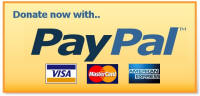 Welcome to My Sim Realty
Welcome to My Sim Realty - home of quality lots and worlds for your sims! This website was established in October 2008 to offer the sims community free, quality lots to download for the Sims 2 and Sims 3. Since then we have compiled hundreds of downloads which do not require any custom content! And now with the addition of the Create-a-World tool, we have a large selection of custom worlds available as well. We appreciate you visiting our site - if you would like to get instant updates of new lots available to download, please like us on Facebook or follow us on Twitter. If you appreciate the free downloads available at My Sim Realty, please consider supporting us with a donation - your generousity of any amount is very much appreciated! You can also support us by shopping at Amazon through our affiliate's link. Your prices are the exact same, however a small "finder's fee" from your purchases is then sent to help support our site. You can also support My Sim Realty by disabling any ad-block extensions for this website. Click here to learn how to do this!
Newest Stuff to Download!


Salmon Woods University

Added 3/2/2016




Requires Sims 3 +

World Adventures + Ambitions + Late Night + Seasons + Island Paradise + University + Basketball Hoop
Lot Size:

64x64


Furnished: $210,775
Stories: 2
Other: Sims who wish to remain in their hometown and still get a degree will enjoy attending Salmon Woods University. There is an on-campus cafe, large gymnasium and two computer labs. It was created for Salmon Woods to go in the town square. As a custom university, please remember to install the rabbit hole rugs and appropriate mod for it to function properly.

Nraas Career Mod


Rabbit Hole Rugs


Install Instructions for Custom Content




Cloverdale

Added 2/19/2016


This older world was created by request and has now had a nice fresh update adding lots and perfecting routing information! This world has a small town center with several outlaying large lots for equestrians. It is mostly open, however this world has a cat jungle, dog park, horse ranch, all rabbitholes, a small park and a festival lot. There are also two houses and a beach. Because of its small size, this world cannot accommodate houseboats or dive lots. It is quite small, only 39 lots!



Salmon Woods FINAL

Updated 2/17/2016


This world will require World Adventures, Ambitions, Late Night, Pets, Island Paradise and Supernatural to function and display properly. All other expansions are not required but are recommended. Salmon Woods is a rustic fishing village that is centered around a huge lake. There are several ponds and scenic wooded areas. This world is complete and ready to enjoy! There are two smaller dive spots, plenty of ports for houseboats which can cruise around in the big lake, lots of places to fish and two nice resorts if you would like this to be a travel world. Save file is available so you can jump in and explore!
**Updated** A version swapping out the covered bridge for a plank bridge and eliminating the need for Supernatural is now available.



74 Bass Drive

Added 2/1/2016


Requires Sims 3 + Ambitions + Seasons + Pets + Generations
Lot Size:

20x20


Furnished: $32,588
Bedrooms: 1
Bathrooms: 2
Stories: 2
Other: This charming home features a full bath, eat-in kitchen, formal dining room and living room on the main level. Upstairs is a large bedroom and another full bath and nook for a desk. It has a fully fenced yard and car pad and is furnished for 2 sims. Created for Salmon Woods to go at 74 Bass Drive.